Time to read:
5
minutes
"I'm doing NaNoWriMo this year!"
Na-No-Wri-Mo stands for National Novel Writing Month, and is a 30-day challenge to write 50'000 words. The premise requires that it be on a new story, not an editing job. The tagline of NaNoWriMo is "50'000 words in 30 days". And every NaNo-er knows that means writing a daily quota of 1667 words every single day in November.
I attempted it again this year – I've been attempting it since about 2002 – and again discovered many things about myself and about writing in the process. So I decided to write a short series of three or four articles about my discoveries. This one is about ways I found to be efficient with my writing. Mainly how writing becomes a habit, that a stable setting helps, that you should build yourself a buffer, and avoid doing research while writing.
My first NaNo was back in 2002? 2003? I've remembered it and attempted it with various levels of dedication, energy and planning, every year since.
And then 2020 reared its ugly head with a Pandemic that has us all cowering in our houses and apartments, and I thought… "well what the f*** else am I going to do with my evenings? More Netflix?"
Also, for the first time since 2002 (my first NaNo), I remembered that November was coming up when it was still the end of September. So I had a whole month to read up on writing, and try to plan, and think of characters, settings, and scenes.
At 23:05 on October 31st 2020, I sat down and started writing. I was 55 minutes early, because I needed to save my sleep. I promised myself that given I had started one hour early, I needed to finish at least one hour early on November 30th.
Dear reader, I wrote the fifty-thousandth word around 23:00 on November 29th. I finished with a day to spare!! I am so. Frickin'. Proud! It was NOT EASY.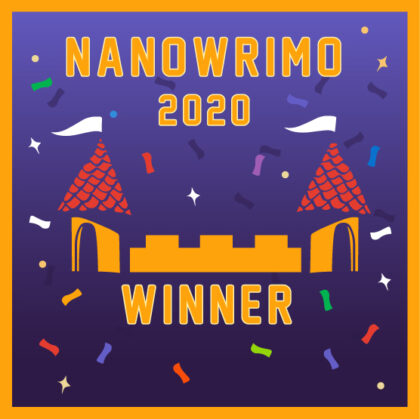 And what am I doing on the evening of the 30th of November? I am in the same chair, at the same desk, with the same light, and the same tea, on the same software (scrivener), writing this post… Because… I enjoy it.
You'll build a habit
To win, you must write every day or accrue a buffer even if you don't intend to skip a day. This means you're writing on at least 25 of the 30 days. For me, this discipline, this intimate way to end the day by myself with music by FocusAtWill (https://www.focusatwill.com) and Scrivener's writing mode, became a habit I was looking forward to.
And now, with the event over, I am back here, writing. It is much more satisfying than watching yet another tv series. I am doing it for me.
Find a stable setting
In 2007, I'd tried writing in LaTeX.
In 2010, I "won" NaNo. It felt amazing. I can't remember the software I used. I wrote both at work during lunch and at home, in the evenings.
In 2014, typing into Evernote, I made it to 13'500 words before a shoulder injury on my right arm prevented any typing, sleeping, sitting, etc…
In 2017, 2018, and 2019, I wrote by hand in notebooks at the office, at home by candlelight, in cafes with breakfast… Twice, I made it to 30'000 words before running out of story-steam and falling behind on the daily quota.
It is very difficult to win at NaNo.
You get pulled away into life. Writing every day is a big challenge and will eat anywhere from one to four hours every day, depending on how things are going.
This year was different. We have a pandemic. I was home THE ENTIRE TIME, and the desk was set up just so, with the lighting just so, and the monitor as I like it…. So it was all ready for me. No life to pull me away. No places to go.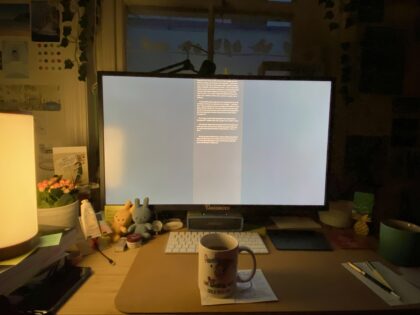 2020 and the second UK lockdown made NaNoWriMo easier, by removing distractions and forcing me to one writing setup that always worked and was always available.
Debt is bad, build a buffer
Don't skip days without a buffer. I've done it, some years. My first NaNo was back in 2003? I have attempted it every year since. The years that I did not win were the years where I accrued such a debt that I could not see myself crawling out of it.
Every day, write a bit more than the quota. To win, you need 1667 words per day. Aim for 1700, or 1800. Maybe 2000. Collect a buffer, even if it's small. Though you should aim to be one day ahead, so you can take a day off if you need to, without crippling your chances. Never leave yourself a debt bigger than what you can catch up on in a day. The most I left for myself this year was 600 words.
The Research trap
I set my "novel" in Ancient Greece… and while I know a lot about the geography, politics, society, characters and events, I don't know enough about agriculture and everyday life of, say, the artisans… so what fruit is in season when and what did we have in the Mediterranean in 360BC? Go figure! I had a lot of things to look up, and I didn't always find an answer. Many evenings I lost more than an hour looking for diagrams and reconstructions of the long walls (connecting the Acropolis to Piraeus) and the Agora or for which fruit was in season.
I even bought two books on the topic! Ancient Athens on five drachma a day is one of them, I found the title funny. They took forever to arrive and I finished writing before I could read enough of them to make an impact to the story.
So don't do the research in parallel.
Draft zero will never be draft one or draft two. We will have to re-write and massage this story at least two more times.
Get the story out, uncover where your characters go and what you need to learn about, and after you're done with that, take the time to go learn it. Separately. In the meantime, leave yourself notes (with a handy ### searchable symbol) for things you want to look up. But don't go down research rabbit holes. I did. I cost me a lot of time.
in summary…
To have a more efficient NaNo, find yourself a fixed setup for writing, through which you will discover your writing habit preference – mine was late at night -. It is wise to write a bit more than the daily quota, so you can build a buffer that allows a day off. And leave yourself notes instead of doing the research in the middle of writing.
If you attempt this, on a future November: good luck! And don't forget to sign up and tell the world about your novel. https://nanowrimo.org. I didn't make mine public, and I doubt it will ever be published. But I enjoyed updating the word counter, and earning the various progress badges.