Time to read:
4
minutes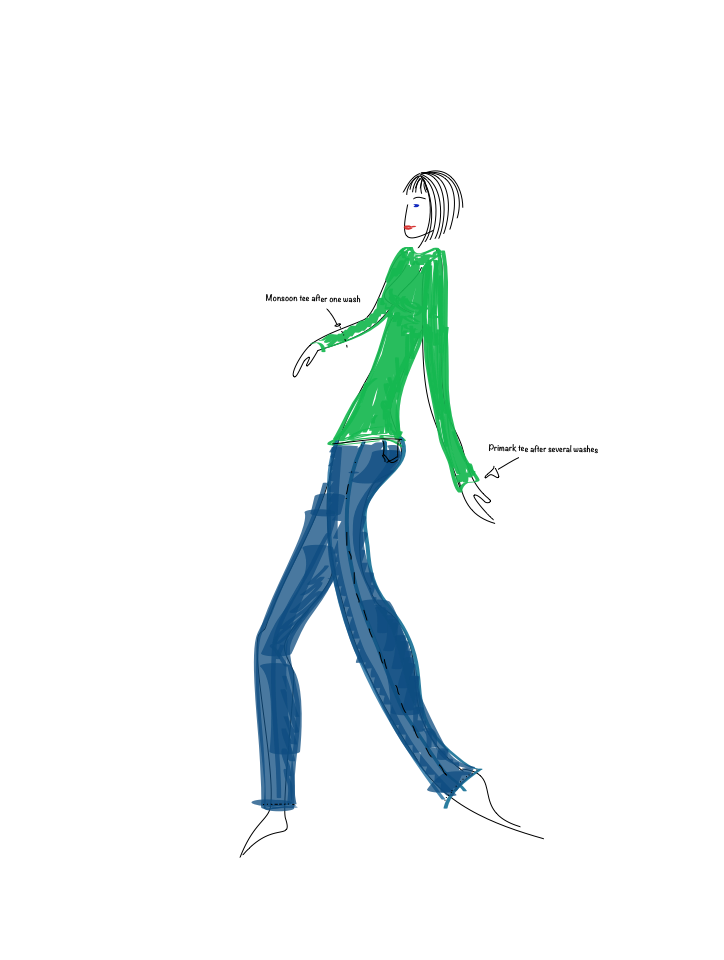 I am of the controversial opinion that Primark makes the best t-shirts on the market. There. I've said it. I buy my cashmere and jeans from Uniqlo, my t-shirts and tights from Primark, jackets from Zara and everything else from specialist boutiques and designers. Many years of shopping around the world have led me to this conclusion. If you can spare a few minutes, I will tell you exactly how I have come to the conclusion that all the other retailers fail the trouser tuck test (TTT).
When I was 12, we were living in Holland. I remember spending nearly three years there, wearing garish colours, poofy coats, and not caring, since that was what C&A and M&S carried at the time. Also, I was still growing into a UK size 10 (which I would at some point leave waaaay behind) and nothing fit properly. A french 36 wasn't right, and the kids' 164 was wrong too. I remember generally living in various long sleeved tees and polos in various colours, waiting to grow into womens' sizes, feeling incongruously misshaped. I'm still waiting, in a sense. But this time I know my body is right and the fashion industry just hasn't cottoned on yet.
We then moved to Montreal, Canada. It was 1992, half a millennium after Columbus crossed over. I discovered The Bay, Levi's and the GAP. I lived in men's 501's for more than a decade. I still have a couple of items from the GAP in my wardrobe. A pair of cargo trousers and a 50s-style cardigan made of the softest cuddliest t-shirt fabric in a beautiful lavender blue. I used to wear them together in the mid nineties and show off a flat stomach. I no longer dare. And England is cold (said the honorary Canadian). In Canada, I went to high school and university. Long-sleeve t shirts and rollnecks abounded. And jumpers. The onion method of dressing ruled. Some had long enough sleeves and bodies, most did not. I started to take note of things that didn't fit me, and gravitate towards anything that had a clipping mechanism below the crotch. Those are guaranteed to stay tucked in!
More than a decade later I moved back to Greece for a short while. I didn't really shop there. Everything was too short. I only walked into Zara and Benetton. Eventually, I stopped shopping at Benetton too. They make clothes for midgets children. Honestly, it was 2007, I was nearly 30, and I like preppy clothes, but showing off my midriff is NOT on my fashion wishlist. Benetton, despite its decent quality and colours, needs to revisit its fabric usage policy. A few more inches wouldn't go amiss.
Then I moved to England. One day, in Hammersmith, I found this shop called Primark which had all sorts of pretty comfy things at incredibly cheap prices. I was unfamiliar with fast fashion. I bought quite a few things. Including an ill-advised pair of high heeled shoes I wore maybe twice before throwing away. I also bought tights. Stockings. Tee shirts with sleeves. And I've kept on going back. They are making better and better tee shirts. The sleeves are long enough, the body of the tee even covers part of my bum (ah, the delights of a warm lower back!). And the sad part? They are the only ones.
All Saints: They ROCK! Amazing lopsided shapes, in colours ranging from white to black and all the washed-up shades in between. Love them. Can't afford £80 for a t-shirt though. Makes no sense. For the well-remunerated and Shoreditch-based lot who never have to wear suits.
Benetton: made for kids.
Dorothy Perkins: This shop has variety. I've gotten some great tees from there, so worth a look. Do pay attention to the materials label though.
French Connection: No t-shirt made of polyester is worth £55. Full stop. Get a grip.
H&M: Decent quality and innovative shapes, but consistently fail the TTT (Trouser Tuck Test).
Matalan: Ok, so I've never bought a t-shirt, but the long t-shirt dress I have, and the various tops I've gotten are lasting brilliantly and are truly nicely made for fast fashion.
Monsoon: wear once, then throw away. They won't keep their size or sleeve length if you wash them.
New Look: See Monsoon, but worse.
Reiss: See French Connection.
Zara: too short, much too short. But occasionally worth it for embellishments.
As a small disclaimer… A few years ago, I went to Brooks Brothers to buy a white non-iron shirt. Everyone should own a white non-iron shirt. It's the basis of all perfect outfits, whether for interviews or a Sunday brunch in the city. I had a quick peek and asked the salesman for help. "I'm a UK 8 to 10, and I'd love to have one of the famous Brooks Brothers non-iron shirts, but do you make them in varying lengths?" "No". I tried it on regardless. I was wearing one of my normal pairs of jeans. (I wear mid-rise jeans, so not covering the belly button, but not crack-skimming either) I slipped the shirt on. Only part of the longest piece of the front and back (this was a curved hem shirt) made it into the jeans. I looked at where the short part would be. I'd be lucky if it stayed tucked into a waist-height skirt for more than 10 minutes.
So yes, disclaimer.
I have a long torso. High-waisted things look awesome on me, as they elongate my legs. I have a strong, long back and shoulders that I love showing off. I also have a flat stomach (I'm only 33, have good genes, a gym in my building and no kids).
And yet I cannot find a single damn shirt in the country that will fit me.
Or tee shirt.
Except at Primark.