Time to read:
3
minutes
In the spring of 2010, a friend of my best friend told me she wanted a website. I asked "what for?". A supper club. I can't even remember if I knew what those were at the time, but they were all the rage. I love making websites and getting people a presence on the internet for the first time, so of course I said yes!
It was a rainy Sunday I think, when we met at my best friend's place in little venice, and had countless cups of tea talking about the concept of the restaurant she was dreaming of opening on the back of the supper club, what she imagined it to look like (a bit like busaba, she said), and the sort of food she would serve (traditional chinese street food, all home made). The name of the place, she devised in homage to her mother, whose first name means "lily", like the flower, in chinese. Mama Lan. That's where the logo idea came from.
I found a nice stock photograph of a lily, cleaned it up, and set it next to a suggestive font (we must've looked at dozens of fonts before settling) to create the brand identity. I knew she wanted spartan lines, but we had no photographs to use, so my vision of the website as it would some day become had to wait. I didn't even own a camera, and there was no restaurant yet! So I suggested a simple grey and white colour scheme, using the colour of the lily from the "logo", a bright purple, as an accent.
By the time I was done, the website included a blog, a photo gallery to host photos from the supper evenings, and a store where you could buy tickets to them.
The website and matching business cards successfully created a corporate identity for Mama Lan.
I am happy to report that the ecstatic owners told me that every time they hosted a dinner, there was always at least one or two attendees who chose Mama Lan because of the website!
Between my friend and myself, we helped her write blog posts, compose the history of her heritage and idea, and – of course – get onto twitter! Remember, this was early 2010, the deluge onto twitter had not started. She now has conversations with journalists, foodies, and friends. She's been featured in multiple magazines and tv shows, and her restaurant business is doing great!
(As of 31st January 2014, she has 1508 followers on twitter)

UPDATE: In March of 2011, the owner of Mama Lan's Supper Club quit her job to start her own restaurant, and is looking for investors. Clearly, the Supper Club's success proved this is a profitable enterprise.
UPDATE: In the summer of 2012, Mama Lan was featured in Gok Wan's chinese food show! Shortly afterward she had the website shut down and redesigned by an agency. Much of the blog was lost in the migration, and brand identity changed significantly.
UPDATE: In the summer of 2013, Mama Lan opened a second restaurant! The food is still absolutely delicious.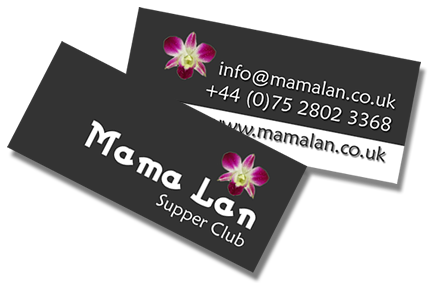 Tools: Fireworks, html, css, WordPress, moo.co.uk.
Set up, configured, administered, developed and designed the entire site. Also designed the business cards, with some help from the amazing moo for making them a reality.